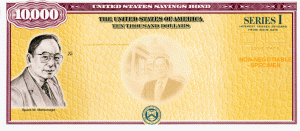 Earn 6.89% Risk-Free on US Treasury I-Bonds!
Series I savings bonds are limited to a maximum purchase of $15,000 per person per year. I-Bonds must be purchased directly from the US Treasury with up to $10,000 purchased online and $5,000 through federal tax refunds as paper bonds each year. Except for the small purchase limit, these bonds are much better than bank deposits and bonds.
The interest rate is guaranteed for the first six months and after that will rise or fall depending on inflation, but never goes below zero. You have to hold onto your investment for at least a year, and if you exit before five years, you'll lose three months of interest. These bonds aren't tradeable and purchases are limited to U.S. citizens, residents, and employees.
I-bond income is free of state income tax, except for estate or inheritance taxes. When used to pay for education expenses, interest income may be exempt from federal taxes, too. Check with your tax accountant for specifics.
To invest directly or learn more, use these links:
Account set-up
Guided Tour
I Bond program facts