Tensions in Ukraine, higher than expected inflation, concerns about rising interest rates, and market volatility are being reported in the news and are on investors' minds. This note offers some perspective.
An invasion of Ukraine may occur in the coming days or weeks.
No one really knows whether or not Russia will invade Ukraine, except Vladimir Putin.
The U.S. closed its embassy in Kyiv and warned of a dramatic buildup of Russian forces on the border with Ukraine.1
It's unclear whether Russia is willing to diplomatically resolve its security concerns.2
Yet, a ground war between Russia and Ukraine would be extremely damaging and may deter Russian troops from invading.
Nothing matters more than the situation in Ukraine for short-term market activity. This was demonstrated by another "risk-off" exodus from stocks to bonds as expectations of a ground war became more imminent last week.
Generally, when times are tough, investors seek shelter in value stocks and that is happening now. Expensive growth stocks have generally been declining.
The following graph shows how the S&P 500 and the MSCI EAFE (index of more than 900 stocks located in Europe, Australasia, and the Middle East) have performed so far this year, along with the performance of the most and least expensive stocks by trailing price/earnings ratio (P/E) 4: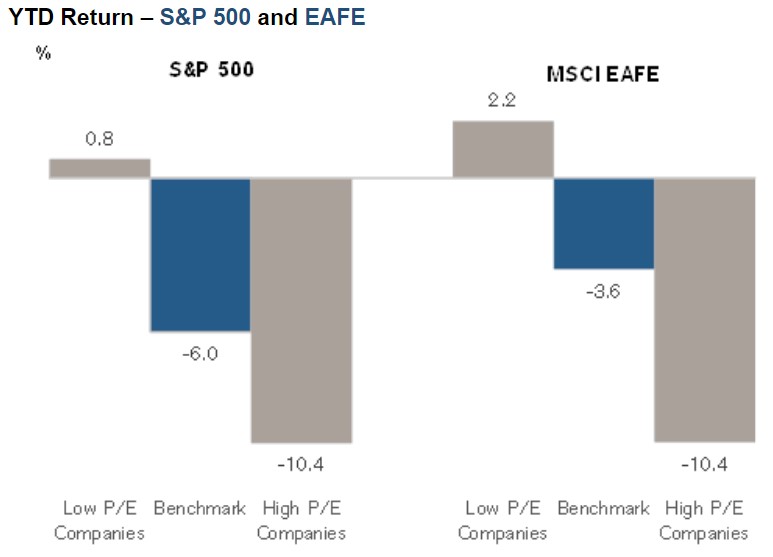 Furthermore, value stocks remain relatively inexpensive. The gap between the price to earnings ratios of the most and least expensive stocks has narrowed, but remains considerably wider than the historical norm: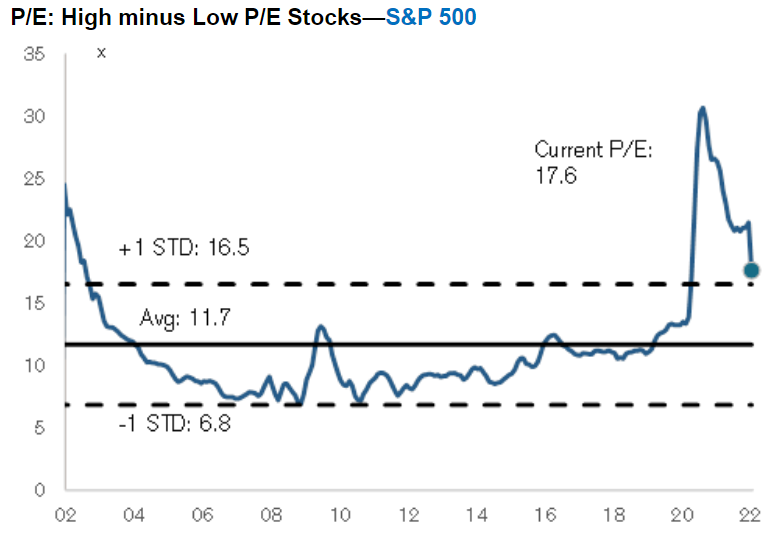 It's hard to see growth stocks recover while anxiety about Ukraine and the Federal Reserve remain high. Yet, if and when tensions ease, quality growth stocks may rebound strongly.
The Federal Reserve may aggressively raise interest rates to fight inflation.3
With inflation at historic highs, some Fed officials worry that the central bank's credibility — also known as their ability to manage inflation and employment — is on the line.
Rate hikes are coming in 2022, but how many and how quickly? That's up for debate by the Federal Open Market Committee (FOMC) next month.
Fed "hawks" want to raise rates quickly to try to bring inflation under control and increase consumer confidence and trust.
Fed "doves" want to carefully raise rates and watch the data to avoid damaging growth or spooking markets.
These are big decisions with big consequences for us, the economy, and markets.
Most forecasters call for the Fed to raise short-term interest rates by 1.75% this year, but some are anticipating as much as 2.25%.
Nevertheless, with inflation running at 7.5%, treasury and almost all investment-grade yields would remain negative after subtracting inflation, even after short-term rates rise by 2.25%.
As a result, most bonds are not a good bet for maintaining purchasing power.
Earnings and Valuations
Fourth-quarter earnings results have been strong.
So far, nearly 75% of the S&P 500 companies reported results and three-fourths of them exceeded bottom-line expectations. Still, there have been some notable earnings misses, and the stocks of those companies have declined sharply.
Stock market valuations moderated somewhat due to the early 2022 selloff.
The forward 12-month price-to-earnings (P/E) multiple for the S&P 500 Index recently sat just below 20.0. Although this is down from the forward P/E ratio of 21.3 recorded at the end of the fourth quarter, it is still running above the five-year average of 18.6.5
Outlook
The possibility of further downside risk remains with concerns about Ukraine, inflation and higher interest rates.
However, staying invested through periods of turmoil has served investors well time and again. The following chart from Morningstar puts that in perspective.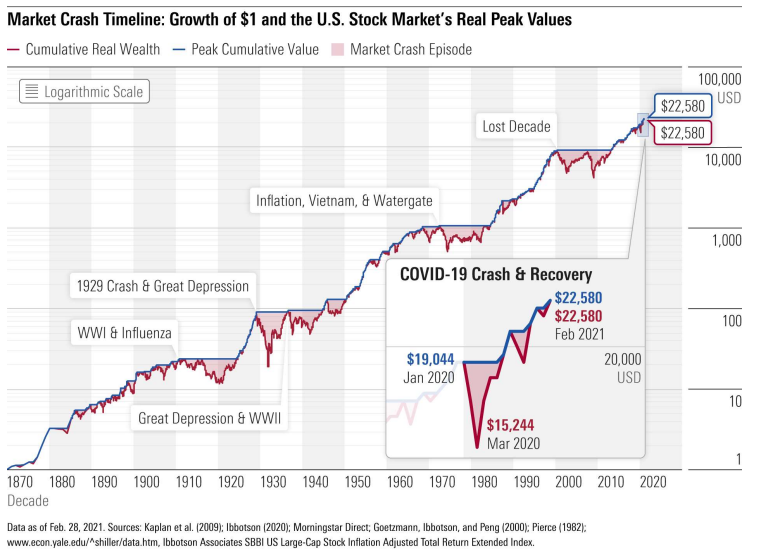 A major lesson from this chart is that investors should not panic and sell their stock holdings during market weakness.
The best approach is to own a well-diversified portfolio that fits your time horizon and risk tolerance.
Furthermore, holding large amounts of cash is less appealing than it has been in decades with inflation at 7.5%.
Conclusion
With the Federal Reserve set to begin a series of interest-rate hikes in an attempt to rein in inflation, it is a good time for investors to be somewhat more cautious and selective, such as favoring stocks of profitable companies that can raise prices, sell for reasonable valuations, and pay meaningful dividends.
————
1https://www.cnbc.com/2022/02/13/stock-market-futures-open-to-close-news.html
2https://www.bbc.com/news/world-europe-60379833
3https://www.cnbc.com/2022/02/14/bullard-say-the-fed-needs-to-front-load-tightening-because-inflation-is-possibly-accelerating.html
4https://www.bloomberg.com/opinion/articles/2022-02-18/ukraine-isn-t-the-only-thing-how-about-a-china-pivot-and-cheap-stocks
5Value Line analysis