Stocks slid into bear market territory after a bad May inflation report showed that prices rose 8.6%, the fastest pace since 1981.1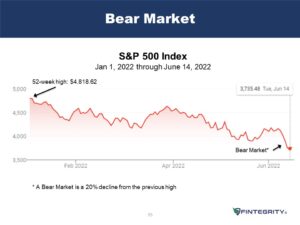 The market, represented by the S&P 500 index, declined by 21.4% as of June 14, 2022, since peaking on January 3. A decline of 20% or more is called a "bear market".
What is driving the market lower?
Inflation accelerated in May, jumping to 8.6% — the steepest increase since 1981.
On June 14, the Federal Rerserve ("Fed") raised interest rates by 0.75%, the biggest increase since 1994, to a target range of 1.5% to 1.75%. The Fed expects their Fed Funds rate to be 3.4% by the end of 2022, 3.8% by the end of 2023. and 3.4% by the end of 2024.
Driving the latest leg of the selloff are concerns that the Federal Reserve will have to move even more aggressively than expected to reduce inflation through higher interest rates.
Some investors fear higher rates could tip the economy into a recession that will reduce company earnings.
Fintegrity Portfolios
Fintegrity favors companies with strong near-term earnings over firms that don't expect most of their profits until years in the future. Higher interest rates reduce the value of distant future earnings more than near-term earnings, which is why our approach is working well in this environment.
Should I be worried about markets?
Cautious, yes. Wary, perhaps. Afraid or worried? No.
Here's why:
Many of the stocks leading the fall were high flyers during the pandemic, so the pullback could be a healthy correction of overblown prices.2
The S&P 500 broad market index's forward price-earnings multiple reached 23.2 in early September, fell to 21.4 in January, and now hovers around 16.5 times this year's earnings and 15 times next year's earnings. That's within the historical range of between 15.5 and 16.5 times forward earnings in the past 25 years.
Bear markets don't last forever. On average, they tend to linger for roughly 15 months. However, the 2020 bear market only lasted 33 days.3
Half of the market's best days have happened during a bear market, so I expect some good days ahead.
To give you some historical perspective here's what happened during the last few bear markets:
You can see that in a couple of cases, markets bounced back within months. However, the 2008 bear market was a sustained pullback that lasted much longer.
Since 1957, in 9 out of 12 of the past bear markets, the S&P 500 index was higher a year later, recovering 23.9%, on averege, within a year.
Is history always an accurate predictor of the future? Definitely not. But we can look to it for hints about what may come.
What happens next?
Markets will likely continue to be extremely volatile over the next weeks and months as investors digest the Fed's aggressive rate hikes as well as concerns about an economic slowdown.
What should I do now?
First of all, don't panic.
The worst thing you can do now is bail on your investment strategy.
It's impossible to perfectly time your reentry into markets and missing the ride back up could have a painful impact on your returns.
Market downturns create opportunities for selective bargain hunting. This is also a good time to do tax loss harvesting in taxable accounts.
Bottom line: markets like these are natural and expected.
Patience with market volatility is crucial for achieving investing success. Stocks continue to provide investors with the best chance of staying ahead of inflation over the long-term.
Questions? Contact me at jeff@fintegrity.com or 201-266-6829.
---
P.S. Do you know someone who could benefit from financial advice, but may not have a professional to help them? I welcome speaking with people who are seeking help, so have them contact me.
P.P.S. Need a break from the markets? Watch jellyfish float at the Monterey Bay Aquarium.
1 – https://www.cnbc.com/2022/06/10/consumer-price-index-may-2022.html
2 – https://www.wsj.com/articles/bull-markets-winners-dragged-the-s-p-500-into-a-bear-market-11655184522
3 – https://www.schwab.com/learn/story/market-volatility
The S&P 500 is an unmanaged composite index considered to be representative of the U.S. stock market in general. Returns based on closing price performance. Past performance is no guarantee of future results. Indices are unmanaged and cannot be invested into directly. For illustrative purposes only. Chart source: https://www.wsj.com/livecoverage/stock-market-today-dow-jones-bitcoin-fed-rates-06-14-2022/card/how-the-s-p-500-performs-after-closing-in-a-bear-market-yBwgfJwW8HGSNJaKg6LB
Risk Disclosure: Investing involves risk including the potential loss of principal. No investment strategy can guarantee a profit or protect against loss in periods of declining values. Past performance does not guarantee future results.
This material is for information purposes only and is not intended as an offer or solicitation with respect to the purchase or sale of any security. The content is developed from sources believed to be providing accurate information; no warranty, expressed or implied, is made regarding accuracy, adequacy, completeness, legality, reliability or usefulness of any information. Consult your financial professional before making any investment decision. For illustrative use only.