Choosing the right financial adviser who can best meet your needs is a crucial decision. Recognizing how hard it can be to tell the difference among providers, this guide describes what to look for and how to make an informed choice.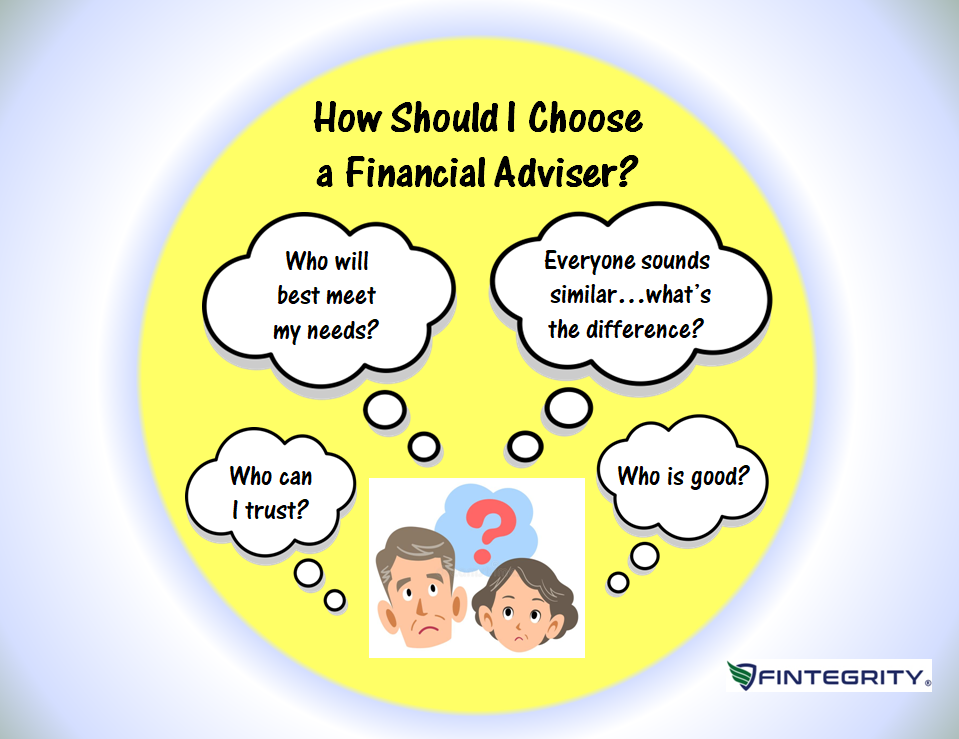 What to Look For
When selecting a financial adviser, it is essential to consider their credentials, competence, compensation structure, and your comfort with them. Here are some key factors to consider:
Credentials
Always seek a fiduciary, such as a Registered Investment Adviser (RIA), because fiduciaries are legally obligated to prioritize your interests above their own. Beware of "hybrids" – firms that charge both commissions and fees – as they may have conflicting obligations.
Competence
Choose a professional with a strong combination of experience, education, and a positive reputation in the industry.
Compensation
Consider a fee-only adviser who is compensated solely by clients and not influenced by commissions. The fee should not exceed 1.5% annually on assets under management. At Fintegrity®, we charge 1% or less, depending on the assets, ensuring our recommendations are unbiased and in your best interest.
Comfort
Choose an adviser with whom you can build a strong rapport. Clear communication, responsive service, and a genuine concern for your needs are key. You want someone who actively listens and responds to your financial goals and concerns.
Background Check
Use tools like www.brokercheck.finra.org to review an adviser's background and any potential disciplinary records. This step can provide valuable insights into an adviser's professional conduct and reliability.
Commission-Based and Fee-Based Advisers
It is important to understand the difference between commission-based financial advisers and fee-based advisers, including how they are paid, what they sell, and the standard of care required of them.
Commission-based advisers earn money when they sell specific financial products, which can influence their recommendations. Although some advisers do not work on commissions, they are paid incentive bonuses for selling products that earn their firm the most money. As a result, it's not good enough to hear that someone does not work on commissions.
In contrast, fee-based advisers, like Fintegrity®, are compensated solely by their clients, ensuring their advice is unbiased and best for the client, even when it is worse for the adviser.
The Fintegrity® Advantage
At Fintegrity®, we are committed to providing personalized, reliable, and successful investment services. Here is why clients trust us:
Investment Expertise: We design strategies tailored to your preferences and market opportunities that help achieve your desired outcomes.
Adaptability: We dynamically navigate shifting market conditions and adjust portfolios accordingly.
Risk Management: We deploy robust risk management strategies to protect your investments.
Comprehensive Financial Planning: We construct comprehensive financial plans that show what is possible, such as retiring early or increasing your lifestyle.
Tax Efficiency: We employ tax-efficient strategies to maximize your returns.
Emotional Decision Management: We help keep you on track to achieve your goals by avoiding emotional decisions that can undermine success.
Error Minimization: We strive to prevent errors that could lead to financial shortfall.
Time and Worry Reduction: We manage your investments so you can focus on enjoying life.
Age-Related Challenges Protection: We safeguard your interests against potential decision-making difficulties in later life.
Continuity: We ensure a smooth transition for surviving family members, safeguarding your legacy.
Clients choose Fintegrity®, a fiduciary registered investment adviser, for a personalized, reliable, and successful investment journey. Our commitment to excellence is reflected in our 5-star Google reviews. We are happy to provide client references to share their positive experiences with Fintegrity®.
The Fintegrity® Investment Criteria
At Fintegrity®, we employ a rigorous selection process for stocks in our investment portfolios. We typically focus on companies that demonstrate:
Positive Cash Flows: We prioritize firms that consistently generate more cash than they consume, signaling financial health and stability.
Strong Competitive Position: We target businesses that are leaders in their respective fields, with strategies and assets that give them a competitive edge.
Dominant Market Share: Companies with a significant share of their market are often more stable and capable of withstanding economic fluctuations.
Sustained High Profit Margins: A track record of high profit margins indicates efficient operations and strong pricing power, which can translate into more reliable returns.
Impressive Returns on Invested Capital (ROIC): Firms with high ROIC are typically more efficient at turning capital into profits, which is a key indicator of management effectiveness.
Value: We look for companies that are reasonably priced relative to their cash flow. This balance of price and performance can help reduce risk and increase potential returns.
Shareholder-friendly Governance: We favor firms with a track record of responsible management decisions that prioritize shareholder interests.
This carefully designed approach aims to optimize the performance of our retirement portfolios, providing our clients with a strong foundation for their financial future.
Customized For Your Goals
At Fintegrity®, we recognize that every client has unique financial goals and aspirations for their retirement. Here are a few potential objectives you might consider:
Growth: If you are looking to significantly increase your wealth, you might aim for doubling your portfolio every 8 years on average. This strategy is often appealing to clients who will not spend most of their assets for many years.
Retirement Income: This could involve structuring your portfolio to provide a reliable monthly income to cover living expenses in your retirement years.
Low Volatility: If you prefer a more conservative approach, you might prioritize minimizing risk and market volatility. This strategy can help provide peace of mind and protect your portfolio in uncertain market conditions.
Minimize Taxes: Efficient tax management can significantly enhance your net returns. We can implement tax-efficient strategies to help reduce your tax liability and keep more of your investment earnings.
At Fintegrity®, we are committed to understanding your unique retirement goals and crafting a personalized investment strategy to help you achieve them.
The Fintegrity® Process
This pictoral shows the process of working together, at a high level, from the initial introduction through the on-going relationship. The chart begins at the bottom left and runs through the top right.
Meet Jeffrey Barnett, Founder and Manager of Fintegrity®
In 2017, Jeff established Fintegrity®, a fiduciary Registered Investment Adviser (RIA), with a mission to serve the retirement financial needs of families investing over $1 million.
Prior to this, Jeff honed his expertise in investment management over 30 years, including a decade-long tenure as a Managing Director at TIAA, a trillion-dollar asset manager. There, he led the product management of a $40 billion portfolio, demonstrating a keen understanding of financial markets and investment strategies.
Jeff's professional journey also includes a variety of positions at renowned financial institutions such as J.P. Morgan and M&T Bank, where he directed product management and guided strategic initiatives.
Jeff holds an MBA degree from Harvard Business School, which laid the academic foundation for his success in the financial industry.
Ready to Secure Your Financial Future?
Take the first step towards a secure and prosperous retirement. Contact Fintegrity® today to schedule a free consultation. Let us help you navigate your financial journey with confidence and peace of mind. Contact Us Now at 201-266-6829 or jeff@fintegrity.com.