Fintegrity helps clients grow their wealth by investing in strong businesses, plan for retirement, and accomplish legacy goals while managing risk. Fintegrity® is a fee-only fiduciary registered investment adviser (RIA) serving families across the U.S. with more than $1 million to invest., informed by more than 30 years of investing experience.
Clients trust Fintegrity® to manage their investments because:
they value Fintegrity's experience, education, and reputation
clients receive clear communication, responsive service, and caring advice about all things financial
Fintegrity® is legally obligated to put client interests first
Fintegrity® is exclusively paid by clients, earning no incentives to sell products
clients are always served by a company principal
Clients hire Fintegrity® to:
Obtain Investment Expertise for desired outcomes, such as growth and/or retirement income
Navigate Constantly Changing Conditions and Adjust Portfolios
Manage Risk
Build a Financial Plan Showing What's Possible
Receive Ongoing Advice for Optimizing Financial Affairs
Reduce Emotional Decisions that can undermine success
Minimize the Chance of Making a Mistake
Focus Client Time, Energy, and Attention on Higher Interests
Protect Against Potential Diminished Decision-Making Ability with Advanced Age
Provide Continuity for Surviving Family Members
We begin by listening to your priorities and aspirations. Then, we build an investment strategy to achieve your goals. We limit your risk, favor low cost solutions, and consider taxes in managing your account. Your questions are always welcome and answered in clear and uncomplicated language.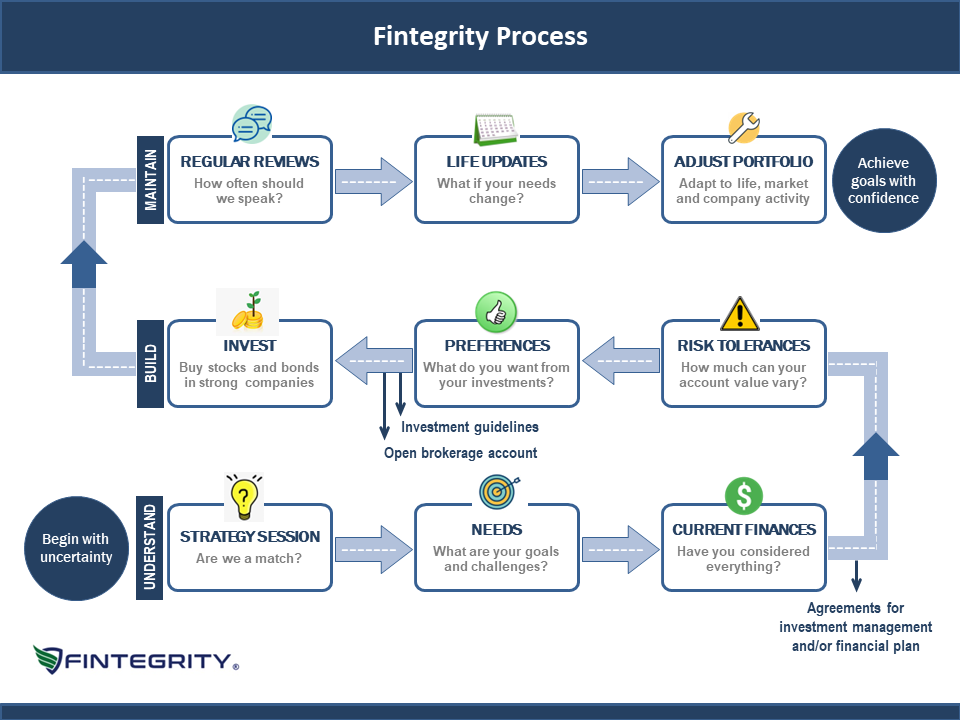 As a registered investment adviser (RIA) and a fiduciary, Fintegrity only works in your best interest and does not accept commissions from brokerage firms, banks, insurance companies or anyone else. Although we manage your investments, we never take possession of them. Your assets are always held in your name by a leading independent custodian who will issue statements confirming your assets and investment activity.
Fintegrity was founded and is managed by Jeffrey Barnett. His career spans 30 years developing major investment experience. Prior to forming Fintegrity, Jeffrey spent a decade at TIAA, the trillion-dollar asset manager, where he led the product management of a $40 billion portfolio. Also, he directed strategy and product management at J.P. Morgan and M&T Bank.
Mr. Barnett graduated Harvard Business School with a master's degree in Business Administration and earned a bachelor's degree, summa cum laude, at the University at Albany.
Jeffrey feels his personal and business life intercede. As a result, he volunteers at nonprofits, such as Ariva, an organization (founded 2003) in New York City that helps low income South Bronx residents file their income taxes and provides financial counseling. Barnett helped Ariva grow by increasing community awareness and streamlining operations.